Danang City, Danang,
add to favorites
Da Nang city

Da Nang is the third largest city in Vietnam in terms of urbanization and economy, after Ho Chi Minh city and Ha Noi.
In recent years, Da Nang has experienced rapid growth and is now considered to be the main economic and tourism center of the Central Coast of Vietnam.
With more than 60 km of white sandy beaches and three UNESCO World Heritage sites, Da Nang continues to be Vietnam's largest seaside destination and the fastest growing tourist destination to attract more international investors.
Besides the beautiful beaches, Da Nang also has entertainment venues such as Bana Hills Fantasy Park with the longest cable car in the world, the International Casino Club, four world-class golf courses, many modern cinemas, annual festivals and theme park called Asia Park under construction.
The rapid development of Da Nang's local and expatriate population, combined with the rapid growth of both domestic and international tourist arrivals, make Da Nang a perfect place to acquire property as an investment and lifestyle option.
Hotline/Whatsapp: +84983121511 (24/7)
Free Investment Guide!
Malibu Hoi An, Da Nang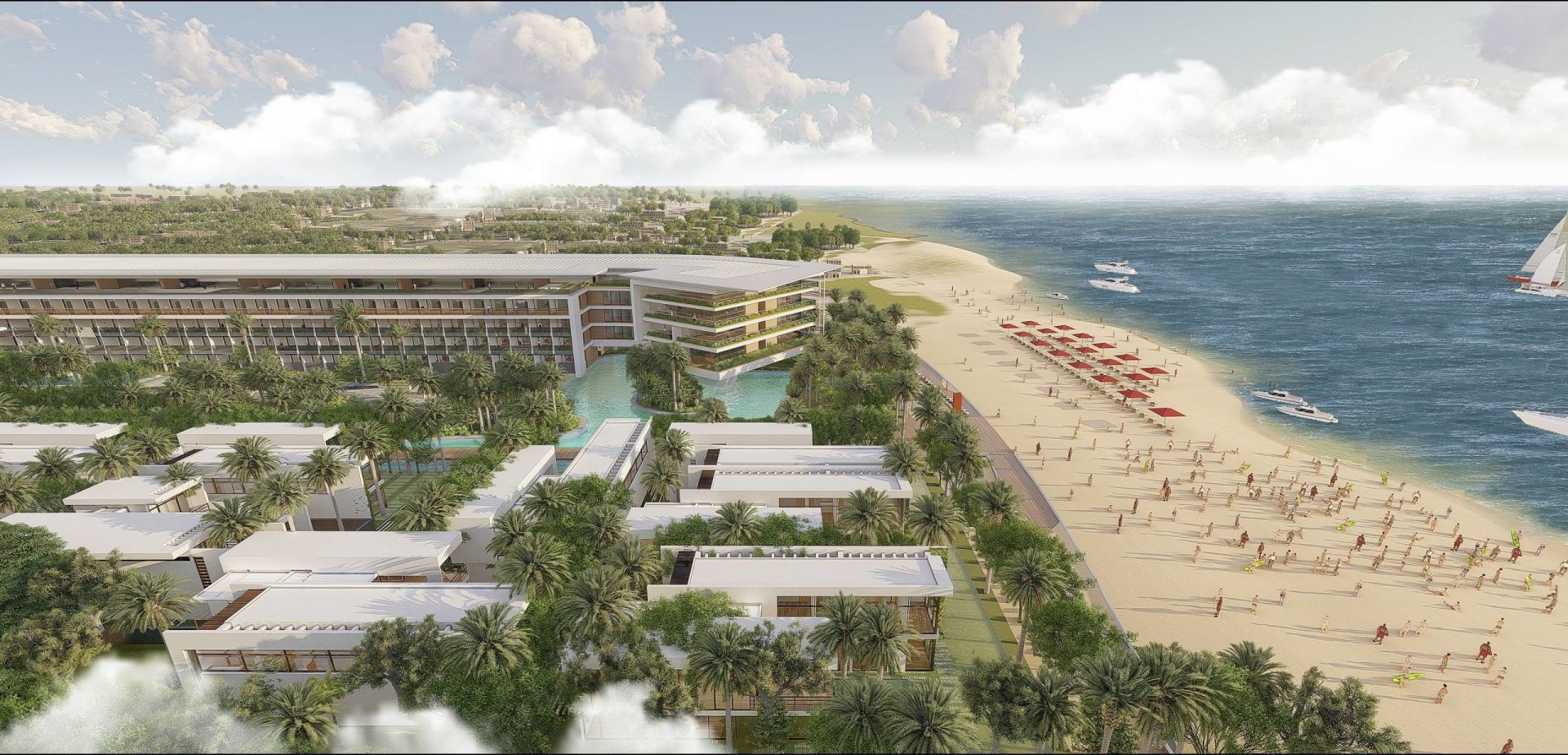 Malibu Hoi An project has a prime location along the "five-star boulevard" from Da Nang to Quang Nam. With the investment size of around 2,000 billion VND, Malibu Hoi An spreads over 11 hectares and consists of more than 600 condotels and 95 villas. The project is expected to be put into use by Q3 2020.
Malibu Hoi An condotels and villas project is owned by Bamboo Capital Group and deployed by its subsidiary, Indochina Hoi An Beach Villas. On August 4th, 2018, Indochina Hoi An Beach Villas has signed with various reputable partners including:
Concept & design – BAKH Architecture (US based).
EPC contractor – Transport and Industry Development Investment JSC (Tracodi).
Landscape design – Signature Architect Vietnam.
Interior design – Oceanus Glass.
Clients financing – Vietcombank.
Project financing – Nam A Bank.
Sales & distribution – ERA Real Estate and Hai Phat Land.
Malibu Hoi An is designed with an eco-friendly concept in mind that will make extensive use of solar energy and energy-saving features, along with the maximum use of natural light and green materials for each villa and condo.Once the project is commercially launched in 2020, it is expected to be one of the most modern five-star resorts in the country, contributing directly to the development of Quang Nam tourism.
Top-Level Featured Resort Villas
Da Nang as the most important coastal tourist city of Vietnam has the best beaches and sea. In the master planning and design of the villa area, we will balance the luxury resort feelings brought by the open space and the economic benefits brought by the high density building environment.
Each villa will have good private space, facilities and elegant, contemporary design which will make this project become a new landmark in Da Nang coastal resort industry.
LUXURY Hotel
Hotel , as well as their support facilities, will also be an important highlight of the project. How to set up low – density hotel space on a tight land will be a challenge.
We will use modern language to create a dynamic and leisure building space, and create a dramatic modern hotel building while echoing the villas.
RESORT VILLAS
LUXURY HOTEL
DELUXE SPA
CLUB & LOUNGE
PRIVATE SANDBEACH
Hotline/Whatsapp: +84983121511 (24/7)
Free Investment Guide!
VILLA 1
The largest and most beautiful villa of the project with a contemporary interior style and sophisticated craftsmanship. This is a paradise for enjoyment and relaxation, immersed in the emerald green of a large garden with a system of tropical plants and the turquoise blue of a private swimming pool.
This is the villa for an owner who knows how to enjoy beauty at a superior level.
Plot area: 451 – 613 m2
Total area: 311 – 468 m2
VILLA 2
A liberal and elegant style is the highlight of this villa. With the idea of using geometric shapes and minimalistic lines, architects have created a work of the prevailing minimalism. Bright colors and wide glass doors make the villa stand out among the emerald garden, azure sky and turquoise sea.
Plot area: 578 – 797 m2
Total area: 449 m2
VILLA 3
Also pursuing minimalism – as liberal and elegant as villa 2 – this villa however is more compacted and suitable for families with fewer members and moderate capital requirements. This is also the most preferred villa to young families when choosing accommodation for their vacations.
Plot area: 341 – 479 m2
Total area: 295.83 m2
VILLA 4
Having one of the most beautiful views in the project, villa 4 is embraced by a river, creating a peaceful and tranquil living area. With wide and tall glass doors and this unique scenery river, this villa does not only welcome the first light of a day but also the scent of the sea and the river breeze to every small corners.
Plot area: 314 – 340 m2
Total area: 271.52 m2
Professional management, International standards
Malibu Hoi An is managed and operated by a Global Leading 5 Star Group of Hospitality Management which has years of experiences in resort real estate management and exploitation.
Malibu Hoi An is proud to be one of the very first International Standard Resort in Vietnam to cooperate with a Well Known 5 Star Group of Hospitality Management from The U.S.
Developer:  Bamboo Capital Corporation
Establish in 2011, Bamboo Capital Group (BCG) has since grown into a group company with 10 subsidiaries and affiliated companies in Vietnam, specializing in various industries including Consulting, Investment Fund Management, Investment Banking, Real Estate, Manufacturing, Import and Export, Transportation, Mineral, Services and Tourism.
Here is our share of the MALIBU VILLAS & RESORT project, hopefully, more customers will be selected for this project. Any information sharing, feedback please email to contact.propertyinvestment.vn@gmail.com
Hotline/Whatsapp: +84983121511 (24/7)
Free Investment Guide!
Address: Danang City
Country: Vietnam
attic
gas heat
ocean view
wine cellar
basketball court
gym
pound
fireplace
lake view
pool
back yard
front yard
fenced yard
sprinklers
washer and dryer
deck
balcony
laundry
concierge
doorman
private space
storage
recreation
roof deck